Shared kidneys bring couple closer together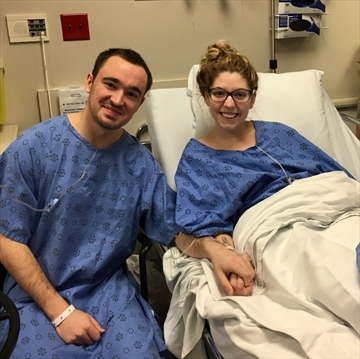 Hamilton Spectator
WATERLOO — Josh Wagler and his fiancée Tori Smythe have a lot in common.
Both grew up in the same small town and went to the same church. Both love travelling and jumping in the car for a weekend road trip.
Now both have one of Smythe's kidneys.
"I can't really express how much it means to me ever," Wagler said. "It's not something I'll ever be able to pay back."
The couple got engaged while both recovered from surgery: Smythe donating a kidney, and Wagler receiving that healthy one. They move into their first home together this week.
"The last six months have been surreal. A year ago I would never have imagined this would happen," Wagler said. "I'm ready to relax now and enjoy life."
Wagler had long been prepared for his kidneys to eventually fail after being diagnosed as a child with the genetic disorder Alport syndrome.
Doctors expected his kidney function would be fine into his 40s or 50s, but recently the checkups started getting closer and closer together.
Then last fall Wagler, 26, was told he was headed for kidney failure, and the possibility of dialysis and organ donation was mentioned.
"It was really, really kinda scary at first," Wagler said. "I felt OK. It didn't seem like I felt any different. … I think it was just such a slow decline over the years."
Thinking about it, Wagler was plagued by nausea, fatigue, and weight loss, and was often cold.
Overcoming his urge to refuse help, he started opening up to family and close friends about his health issues. Soon people were offering to get checked to see if they were a match.
"It was a lot of people who were just jumping on board right away and it made me feel really good," Wagler said.
Among those who got tested was his girlfriend. They had known each other for a long time since their childhood in Tavistock, hanging out with the same circle of friends.
Wagler thought it was amazing she would offer, since they had only been dating a few months when he got sick. He also figured there'd be no way they were a match.
"The chances of that happening would be absolutely outrageous," Wagler said.
His father was getting tested, too, but things "just seemed to take off" when his girlfriend was found to have the same blood type.
"Everything just kept going quicker and quicker with Tori," Wagler said.
He couldn't believe it when she revealed in early January that they were a match, and she was ready to give him a kidney.
"I just kind of froze. I can't really describe that feeling. It's so many different emotions," Wagler said. "It was really, really quite surreal."
Both talked to social workers and experts to know the risks. Donating an organ is major surgery, which comes with potential for complications.
While waiting for his new kidney, Wagler began to get very sick and was started on dialysis treatments to keep him well enough for surgery.
Then the big day came in early February. Smythe was wheeled into the operating room first.
"That was the longest five hours I've ever had to go through," said Wagler, who said watching her go into surgery was scary and comforting at the same time.
That surgery went well. Then it was Wagler's turn.
"She had already done her part. Now I just had to do mine."
When Wagler awoke, he couldn't wait to see Smythe. Because neither was allowed to get out of bed, they chatted on FaceTime.
"It was just so nice to see her," Wagler said.
Smythe said she felt awful after surgery, but immediately knew it was worth it when she saw her boyfriend looking so much better.
"The gift is working already," she thought.
While the chances of them being a match were slim, Smythe said all along she was convinced it would happen.
"There was a part of me that knew I was going to be the donor."
Recovery was tough for both of them over the next eight weeks, but Smythe said "it was just great that we got to recover together."
By the start of April, both were back at work. Smythe works at Waterloo's Axonify as an opportunity development representative, and Wagler works for an agricultural engineering firm in Shakespeare.
Wagler can't get over how good he's feeling thanks to the life-saving gift Smythe didn't hesitate to offer.
"Now I realize how sick I was before the surgery," he said. "It's night and day and I can't be more grateful for that."
April is Organ Donor Awareness Month. This year, all Ontario residents are encouraged to check their registration status. Up to 1.8 million Ontario residents mistakenly believe they are registered but they are not, according to Trillium Gift of Life Network.
Check the back of your
photo health card for the word "donor" or online at
jweidner@therecord.com ,
Twitter: @WeidnerRecord