This quick recipe is perfect for when you have a yen for something sweet. You don't want to be tempted by the sugar laden sweet treats in the shopping till aisle, so make sure you have these ingredients on hand and you can whip this up in no time.
Ingredients
4 Tablespoons of almond flour
2 Tablespoons of xylitol
2 flat Tablespoons of unsweetened raw-as-possible cocoa
Add one large egg
3 Tablespoons of full cream milk
3 Tablespoons of olive oil
Method
Mix the dry ingredients in a large mug.
Add the egg and mix well.
Then add the milk and oil and mix together until it is well blended.
Microwave on high for 3 minutes.
It does rise quite high, so you need a large tall mug.
You can either then let it cool in the mug and eat it out of it, or you can empty it into a dessert dish and serve it with cream, garnished with  a strawberry. Some mint would have looked good as well. But doesn't this look yummy?!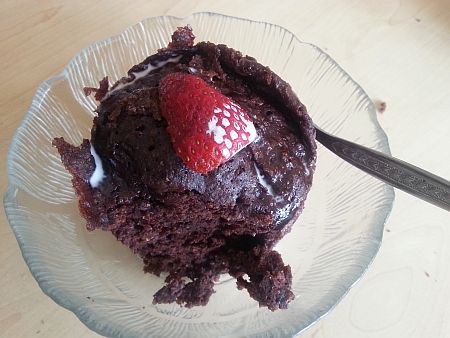 That's the Saturday Banting recipe!
#170 of my thousand thanks today is that we get to do some planning for our October 2017 holiday. 🙂
This morning, I read this…
Psalm 18:32
It is God who arms me with strength and makes my way perfect
Such a good reminder!
These are the days!
Keep the smile going!
God bless you!
In His Grip,
Helga xx 🙂
by Helga