TRY THIS LOADED CAULIFLOWER. MADE WITH BUTTER, SOUR CREAM, CHIVES, CHEDDAR CHEESE AND BACON
A couple of weeks ago I brought you lovely people one of my favorite recipes for mashed cauliflower with celery root and talked about how cauliflower is the unsung hero of the low carb world. We use it for almost everything, don't we? I know that I've personally roasted cauliflower with bacon and green onions as a side and have pureed it to add body to cream soups, like this sublime cream of celery soup. I've also seasoned it with exotic Indian spices as in this wonderful vegetable masala and this hearty beef curry. One of my favorite ways to enjoy cauliflower is as cauliflower fritters that I like to use under my poached eggs. Yum!
Even mainstream bloggers have discovered cauliflower and are making great cauliflower pizzas like this one from Kevin at Closet Cooking. And Lisa from Low Carb Yum uses cauliflower in some of her desserts – chocolate pudding anyone? Or how about this buttery cauliflower pilaf? You can see that cauliflower can be used for almost any dish. But you, my low carb friends, already know this. You've been cauliflower ninjas for years!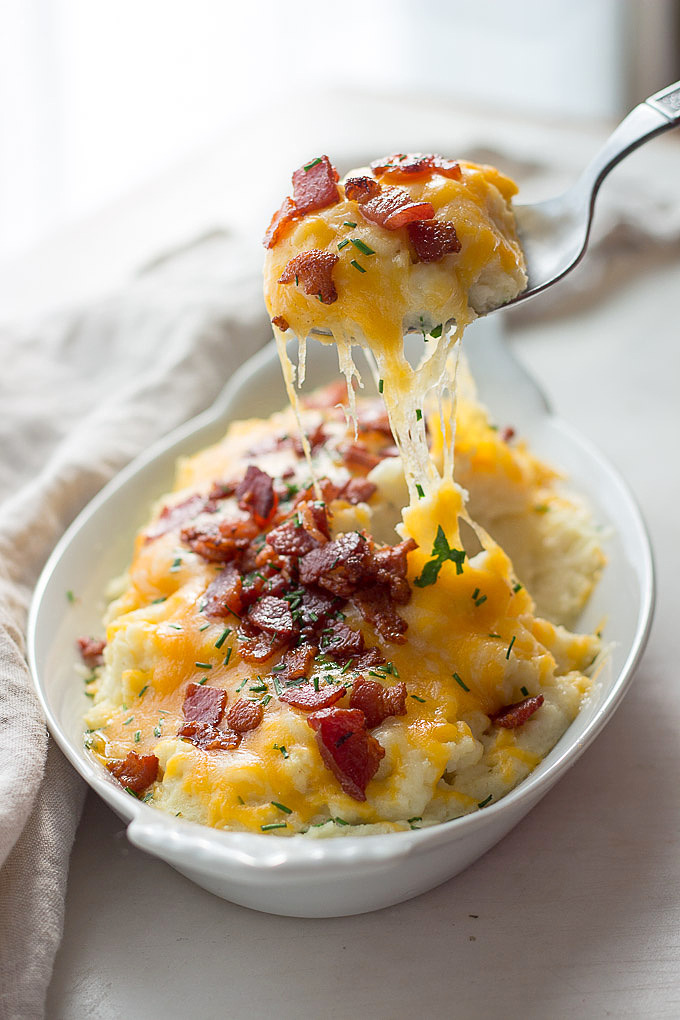 For me, sometimes it's the more simple recipes that hit home – like this loaded cauliflower mash. It's the ultimate in comfort food. If you were one who enjoyed ordering loaded potato skins at Friday's after work or preferred a loaded baked potato with your steak, this recipe will take you back to the days. At least, it did me!
The trick to getting a fluffier cauli-mash is to steam instead of boiling. Then make sure to let it sit uncovered for a minute to release some moisture, and then drain well before putting it in the food processor. Lastly, add the ingredients that make it taste great – like sour cream, cheddar cheese, chives and bacon. That's it.  Easy, cheesy and delicious.
Oh, and my kids couldn't get enough. These are die hard mashed potato haters! Loaded cauliflower was a hit in their book and a win for me!
EACH SERVING OF THIS LOADED CAULIFLOWER MASH HAS 3 NET CARBS.
LOADED CAULIFLOWER (LOW CARB, KETO)
Author: lowcarbmaven.com
Nutrition Information
Fat: 17
Carbohydrates: 5
Fiber: 2
Protein: 8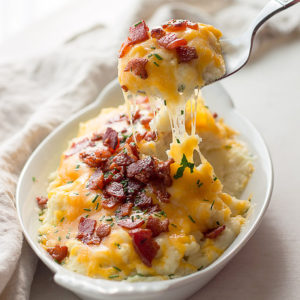 This loaded cauliflower, made with butter, sour cream, chives, cheddar cheese and bacon, is the ultimate in low carb comfort food!</span>
INGREDIENTS
1 pound cauliflower, florettes
4 ounces sour cream
1 cup grated cheddar cheese
2 slices cooked bacon, crumbled
2 tablespoons snipped chives
3 tablespoons butter
¼ teaspoon garlic powder
salt and pepper to taste
INSTRUCTIONS
Cut the cauliflower into florettes and add them to a microwave safe bowl. Add 2 tablespoons of water and cover with cling film. Microwave for 5-8 minutes, depending on your microwave, until completely cooked and tender. Drain the excess water and let sit uncovered for a minute or two. (Alternately, steam your cauliflower the conventional way. You may need to squeeze a little water out of the cauliflower after cooking.)
Add the cauliflower to a food processor and process until fluffy. Add the butter and sour cream and process until it resembles the consistency of mashes potatoes. Remove the mashed cauliflower to a bowl and add most of the chives, saving some to add to the top later. Add half of the cheddar cheese and mix by hand. Season with salt and pepper.
Top the loaded cauliflower with the remaining cheese, remaining chives and bacon. Put back into the microwave to melt the cheese or place the cauliflower under the broiler for a few minutes.
Mashed Cauliflower with Celery Root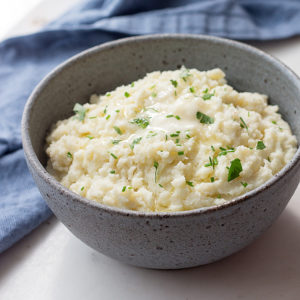 Low Carb Cauliflower Fritters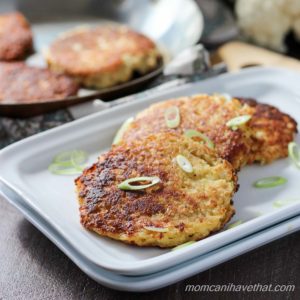 Roasted Cauliflower with Bacon and Green Onions
SOURCE: lowcarbmaven.com